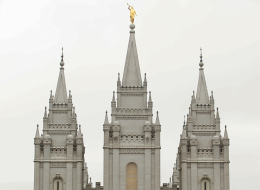 AOG, Madrid






I

think it is a sad day when bodies such as "a church" have a say at basic human rights- whether they are for or against them. I just don't see the relevance or the competence of an institution which, in theory, deals with spiritual ideas and theories concerning the hereafter, sin, etc etc. Human rights are above any concern institutions dealing in transcendental theories might have.

We are not living in the Dark Ages, and the opinion of religious folk should go no further than the pulpit they pray at. Certainly it does not belong on the mainstream by any stretch of the imagination. If you need guidance, choose ethics, not religion. They are the closest thing to "universal truths" we have. Or need.

Thank you Mormons, but keep it at home next time. I don't tell you who to pray to, and you don't tell me who to love.

Read the Article at HuffingtonPost