S

pain these days likes to present the World its best non-religious face. Its Prime Minister, Mr. Zapatero, is a well known atheist who, nevertheless, attended a religious service when it visited the US in the company of the Obamas.
And that is probably the best example of how this country tries to do away with religion in its institutions, while kow-towing to religion time and time again. Something which many people in Spain wish did not happen.
The best example of this is the recent controversy an atheist group has presented Madrid's (Socialist) Government Representative in the city. A group known as AMAL - Asociación Madrileña de Ateos y Librepensadores (Madrid association of atheists and freethinkers)-, requested permission from the Town Hall to stage a public demonstration in favor of atheism on Maudy Thursday. And this hot potato has gone from the Conservative ruled Town Hall straight to the (Socialist) Government representative in Madrid, with the media in tow all along the way.
The problem is that on that very day, Madrid, and most of Spain, is deep in the midst of Easter Week, with daily processions of religious figures, Saints, Virgins and crucified images of Christ, which the faithful congregate on the streets to see.
Madrid's Easter processions are relatively low key compared to the religious pomp and circumstance of cities like Valladolid and the über Catholic processions of Seville, in the South of the country but nevertheless as a popular religious expression.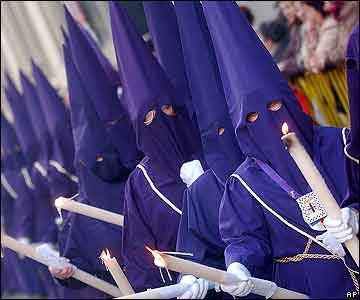 It is fair to say that the Catholic Church is allowed to take over the streets of Spain at this time, and that the whole country sort of shuts down for the duration.
Of course, Spain 2011 is not the same as Spain 1911. These days, many people, even many religious people, are not entirely sure that the Church should be given such a free hand when it comes to public spaces, and Easter, or Holy Week as it is known, can certainly be a nuisance for many people since it entails increased levels of noise, public crowds, traffic cuts and delays, etc.
But that is not exactly the point of the demonstration. It had more to do with an incipient, yet eternal, movement towards atheism.
The Government's regional representative argued up to 11 reasons for which it denied the demonstration which it quickly called "an atheist procession", alluding to an anti-religious sentiment and the intention of AMAL to promote its "atheist ideology". AMAL, as well as the local organisation La Playa de Lavapies

however, never called it a procession and insisted it was a public demonstration.
It is worth noting that AMAL is a group from the neighborhood of Lavapies, which is a small melting pot of different nationalities in Madrid.
In fact, it would be fair to say that about half the population of Lavapies is not of Christian origin, coming as many of them do from places like North Africa or the Indian subcontinent, although no religious group asked for this demonstration, quite the opposite.
Unfortunately, the controversy was served as soon as the Town Hall started to pass the buck.
Many other atheist groups in Madrid and in Spain have joined AMAL and it has the right of appeal before Madrid's Superior Justice Tribunal since the demonstration's denial is seen as a violation of the fundamental right of public demonstration and assembly, enshrined in Spain's legal system.
However, it seems like they had no time to do this since they are being sued by 10 citizens -7 of them lawyers- on the grounds of "religious derision".

The fact that "religious derision" can be counted as a punishable crime in Spain has many people in the country up in arms.
Furthermore, they are also being sued by a Christian Lawyers Association for "extolling terrorism" and an NGO (HazteOir.org ) for "genocide" –it seems AMAL allegedly used pre civil war arguments for their demonstration and maybe "justified" their actions by so doing, and thus allegedly broke a law on Spain's Penal Code, (unfortunately, a lot of priests and nuns were killed before the Spanish Civil War of 1936-39 and it is against the law to justify or deny their deaths) which forbids "The diffusion by any means of ideas or doctrines which deny or justify the crimes of genocide… or pretend the rehabilitation of regimes or institutions which shelter any practises which generate said crimes".
It seems like the people who wanted to carry out the demonstration never thought it would all end up like this and they still want to carry out their demonstration, although it does not look like they will.
Mr. Luis Vega, president of AMAL, has stated that prohibiting this demonstration is a "worrying" fact and one that "means a withdrawal of the country's liberties" since the city's Administration uses the same arguments as those used by religious authorities to forbid the public demonstration.

This is one of the few public declarations they have made since they went public with their request given the fact that they have, allegedly, been "threatened" ever since. "We were trying to criticise the Church as an institution, not any religious belief. We meant it to be like a neighborhood band type of thing".
Madrid's Government Representative has denied the petition on these grounds:
- The procession's (sic) route "curiously" presents names related to catholic symbology
- The chosen date: Maudy Thursday
- The chosen time coincides with that of various Catholic processions
- The denominations of the participating "brotherhoods"

(AMAL never said there would be any "brotherhoods", but it seems that other atheist groups slightly hijacked their initiative and announced there would be brotherhoods akin to those found on Catholic processions with names such as the Pope's Brotherhood of the Holy Larceny or the Brotherhood of the Holy Paedophile)
- It takes place in a zone with various parish churches
- The content of the group's posters and public declarations
- It coincides with the route taken by Catholic processions "well-known for years"
- The presence of radical and antagonistic groups
- Massive public affluence and the need to protect Madrid's touristic image
- Enclave of a very high artistic and historical value
-The Police, Town Hall, the Public Defender's Office, and the Government's representative coincide in that it should not take place
Of course, part of the problem lies in the fact that it was the Government's representative that denied the petition.
The Government is ruled at present by the Socialist Party, a political organisation which continuously tries to present its lay credentials but which often falls short in the eyes of many.
For its part, AMAL and La Playa de Lavapies have issued statements whereby they declare that they abide the Government's ruling and will not carry out any public demonstration on said date.
However, it remains to be seen if nothing beyond the religious processions will take place.
Many in Spain see this as another example of their non-denominational Government bowing to religious pressure and as a victory for the Catholic Church, an institution which in Spain, surprisingly, has of late been playing the victim continuously, especially since the Socialists came into power in 2004.