AOG, London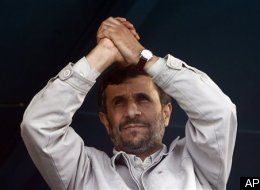 I have always thought that the best way to deal with proto-nuclear powers is through engagement. True, Iran is not just that. Having left the Western sphere of influence after the Islamic revolution, it is a country intent on carrying out a very proactive foreign policy. As of late, it has done well playing off the US and Russia against each other.


It is perhaps too early to tell if this has actually helped Iran's cause any, but it is obvious that it has bought the regime time, and it has shown it to be a very independent player in the world stage.

It is also true that in foreign policy matters, Iran is preaching to the converted. Nowhere outside the Islamic world (with the odd exception of Venezuela, and possibly Russia) is Iran seen as a serious player. Too dependent on religion to be taken seriously by most secular powers, nevertheless it is a country intent on undermining, when not outright demanding, the destruction of Israel.

I think the Obama administration is doing well in bringing Iran to the negotiating table. I am not sure that it will stop the Ayatollahs from creating a nuclear power in the region, but it is a start.

About Barack Obama
Read the Article at HuffingtonPost